This article requires formatting changes to meet the Clannad Wiki's quality standards. Please edit it to make relevant changes.
(

November 2013

)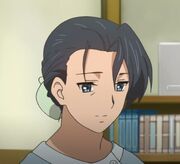 Yagi is a midwife who appears in "In the Remains of Summer and"White Darkness". She helped Nagisa deliver Ushio.
Yagi is a close friend of Sanae. As of her debut, she is aware of Nagisa's illness.
Ad blocker interference detected!
Wikia is a free-to-use site that makes money from advertising. We have a modified experience for viewers using ad blockers

Wikia is not accessible if you've made further modifications. Remove the custom ad blocker rule(s) and the page will load as expected.