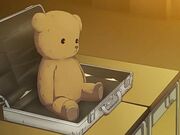 The teddy bear was the Ichinoses' birthday gift to Kotomi.
When she was a child, Kotomi asked for a teddy bear as a birthday present, after reading from a book that teddy bears are what girls her age ask for. Her parents, who had a business trip during her birthday, promised to send one to her while they were overseas. Kotomi said that she didn't want a bear anymore, and instead wanted her parents to stay during her birthday. After her parents' death, Kotomi would only receive the bear years later from the Gentleman, after her parents' suitcase, which survived the crash, found its way back to the lab her parents worked in.
Ad blocker interference detected!
Wikia is a free-to-use site that makes money from advertising. We have a modified experience for viewers using ad blockers

Wikia is not accessible if you've made further modifications. Remove the custom ad blocker rule(s) and the page will load as expected.